Gaming Laptops vs Mobile Workstations: Differences You Must Know
by Ashok Pandey
June 21, 2021
0 comments
This is a very common debate among buyers. If you're a professional video editor, designer, or engineer who needs to run demanding applications, then should you choose a gaming laptop or mobile workstation?
After all, both laptop categories have high-end specs, and many gaming models have a price advantage. So, it's only natural to presume that they can be used interchangeably.
Theoretically, they can be used because of the high-end specs, but there's a lot more to consider in these devices beyond specs. There are in fact, significant and substantial differences between the two which depend on how you need to use your machine.
Mobile Workstations
These are high-performance laptops designed for professionals who need advanced graphics capabilities, plenty of high-speed storage capacity, and a powerful CPU. These devices are more capable than business laptops, but less advanced than a server.
Mobile workstations can accommodate high-resolution or 3D graphic interfaces, sophisticated multitask software and more. Primarily, mobile workstations are designed to perform computationally intensive scientific and engineering tasks.

Gaming Laptops
These are more powerful than ordinary laptops as they have much better technical specifications. Gaming laptops are optimized to run high-end, graphics-intensive games at high frame rates. As they're meant specifically for gamers, they have loud designs with lots of colorful LEDs that can be custom configured to blink as per the gamer's liking.

Mobile Workstation vs. Gaming Laptops: How CPUs Differ?
The CPU of both types of machines, make a huge difference in performance. The workstation comes with powerful processors optimized for parallel processing, for instance, Intel Xeon.
Usually, consumer PCs come equipped with 4 to 6 cores CPUs while workstation CPU may use a 32-core processor, with a gigantic cache size to match. Higher cores doesn't mean better performance, as it depends on the tasks and software that is able to utilize them. A coder might use more cores to write code, emulators and IDEs, etc.
For gaming, a higher number of cores won't be useful, as games are not developed to utilise so many cores. Imagine one processor with 16 cores, each running at 2.0 GHz, while another processor with 4 cores, each running at 2.1 GHz. Amazingly, the 16-core processor will perform lower running any game. That's because simply having 16-cores isn't enough. You need software that's written to take advantage of each one.
You will be surprised to know that games are not developed to support the extreme number of cores, so there is no reason to have a Xeon CPU for a gaming machine.
How GPUs Differ?
When it comes to graphics processing, GPU is the most critical component. It is important for both Workstations and Gaming laptops. Choosing a high-end GPU is not always required, though the breed of GPU is completely different for both.
For a professional, running programs like AutoCAD, Adobe Suite, etc. a workstation with Nvidia's Ampere Quadro GPU would be the most suitable. For gaming, you need a GPU that can deliver a high FPS constantly, like Nvidia GTX 1650 (4GB, DDR6).
Professional series cards and Mobileworkstations get regular updates on drivers by OEM like Nvidia and HP. Software vendors also test their new releases on these cards and models before launching in the market. So end-user experience for professional users is seamless on application and HW.
Workstations Require More RAM
When it comes to RAM, higher is better. 8 GB is standard, and can let you play games, but workstations often require much more RAM than that to handle different levels of processing. So here, capacity can range between 32 to 64 GB, and can scale up to 128 GB Ram.
Certified Hardware
Another very important aspect to consider is hardware certification. In some mobile workstations, like HP's Z Book series, the hardware is certified by most ISVs, which basically makes the machine more stable. It won't come crashing down in the middle of a critical video you might be rendering, or some other application you might be running.
Gaming laptops aren't really certified by ISVs, so they're more prone to crashing while running a demanding application. That's because they're not meant to run those applications.
Some Recommendations
As both machines use different CPU, GPU and RAM, there are differences in the motherboard, cooling system and construction aesthetic.
One thing to note is that workstations can handle games, but they're not ideally meant for that. If you're a serious professional, then you could play during your leisure time. If you are a serious gamer, however, then a gaming laptop is the right choice for you.
For instance, a high-end gamer can check out a gaming laptop like HP OMEN Laptop 15-ek0024TX, which is powered by an Intel Core i7-10750H (2.6 GHz base frequency, up to 5 GHz with Intel Turbo Boost Technology) CPU coupled with 16 GB DDR4-2933 SDRAM, NVIDIA GeForce RTX 2070 with Max-Q (8 GB DDR6) dedicated graphics and 1 TB PCIe NVMe M.2 SSD.
A professional on the other hand who has to work on 3D modelling and other designing software should check out something like the HP ZBook 17 G7 Mobile Workstation. It's powered by Intel Xeon E 2286M i9-10885H with Intel UHD Graphics P630 (2.4 GHz base frequency, up to 5.0 GHz with Intel Turbo Boost Technology, 16 MB cache, 8 cores) (2.4 GHz base frequency, up to 5.3 GHz with Intel Turbo Boost Technology, 16 MB cache, 8 cores) with NVIDIA Quadro RTX 3000 (6 GB GDDR6 dedicated) based on vPro, coupled with 16 GB DDR4-2666 ECC SDRAM, 1 TB HDD and 512 GB PCIe NVMe SSD and NVIDIA Quadro RTX 3000 (6 GB GDDR6) dedicated graphics.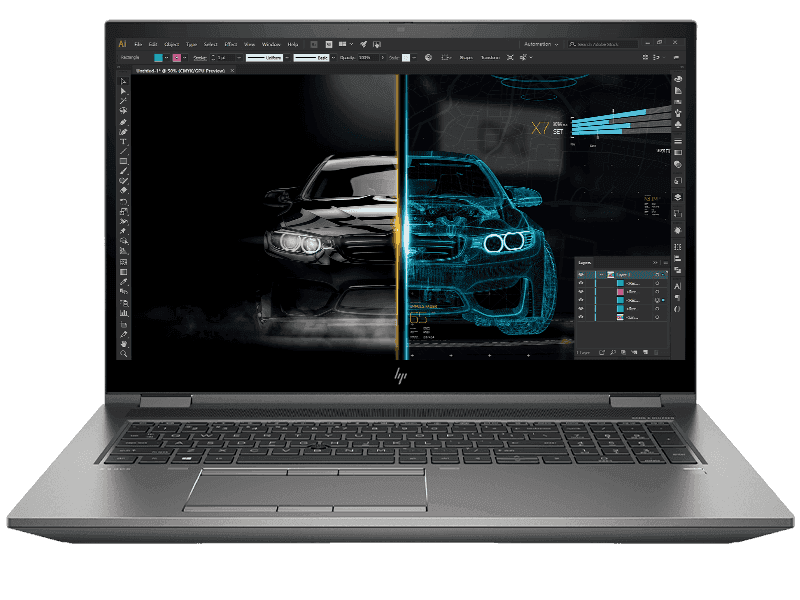 That's all about mobile workstations and gaming laptops. As you can see, there's a stark difference between their specs, and each one is meant for a specific type of people. That's why, they can't be interchanged.
Click here to visit the HP Online store for some really great deals on
the products discussed above.